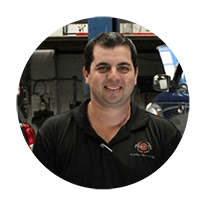 Hi, I'm Nick Thomas, owner of Ashmore RWC and Automotive Services. I started as an apprentice mechanic over 15 years ago, initially employed at a multi-franchise dealer specialising in Subaru, Mitsubishi and Suzuki. Since then I've worked as both a mechanic and manager of a number of tyre and auto stores in various locations across the Gold Coast & Brisbane, working on a huge range of car makes and models. I also had a stint in the mines in Perth working on trucks, drill rigs and auxiliary equipment. Tired of being pushed to hit store performance indicators and not having the option to shop around for car parts to give customers a better deal, I opened Ashmore RWC and Automotive in 2015.
Trusting Your Mechanic
We value the fact that that it takes time to build up trust with a new mechanic. Please read our many reviews on Google and Facebook.
At your request, we can keep your old parts and show you faulty components
Quality Oils
Our workshop only uses top quality oils such as Penrite, an Australian company with an excellent reputation in providing the best quality oil at a reasonable price.
We have chosen Penrite as they have a listing for almost every vehicle.
You can rest assured the correct oil is being put into your car, something that is of great importance if your car is still under manufacturers warranty. Visit http://www.penriteoil.com.au for more information.
Quality Filters
We use a range of filter brands including Ryco and Purflux as they are the most trusted filter brands in the automotive sector.
Quality Brakes
We prefer to use Bendix and Meyle brakes for their superior quality to other brands of brakes on the market.
Please note to abide by insurance and workplace health and safety regulations we cannot allow customers in the workshop.
We work on most makes and models.